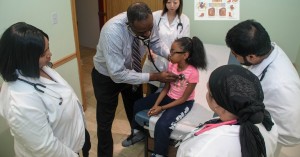 Patients, from 10 year olds to adults, can expect the very best medical attention at IntegraCare Clinic. Our care teams are staffed with board-certified physicians, physician assistants, nurse practitioners, registered nurses, and medical assistants. Our providers have a wide variety of backgrounds, including family practice, internal medicine and geriatric care, and they extend services in a unique way as to afford patients adequate physician oversight to facilitate high quality care. Dedicated to the provision of quality healthcare in a traditional care facility, we are here to assist you and your health needs in your pursuit of wellness.
With our convenient locations, advanced technology and a wide range of medical and public health expertise, we offer prompt treatment and establish avenues for prevention for every medical condition from illnesses to minor injuries. We treat patients quickly and efficiently, featuring a new streamlined process that reduces wait times.
We also offer aging care services, delivered by highly trained physicians or providers and licensed, pre-screened and insured ancillary care vendors. We make it our priority to have a provider available on a timely basis and conduct all tests and services promptly as per orders.
At Doctors Unlimited SC, our nursing philosophy is to provide an atmosphere of comfort while delivering care to our patients. It is our belief that the dignity and worth of the individual has to be preserved and respected. We also believe that the nursing care must be consistent with and specifically designed to meet the needs of the patient, family members, and the community where the patient lives.
You can schedule an appointment with IntegraCare Clinic ahead of time to ensure a quick and easy flow of your desired medical care, but walk-ins are very much welcome. We accept several types of insurances as well as self-pays. Please call our office for more details on walk-ins hours and to find out if your insurance is accepted by our office or to find out the self-pay rates.
NOTICE TO PATIENTS
IntegraCare Clinic serves all patients regardless of inability to pay.  Discounts for essential services are offered depending upon family size and income, and a payment plan is available for patients who do not qualify for a discount.
For more information please ask the receptionist.
Thank you.
AVISO PARA PACIENTES
La Clinica IntegraCare ofrecen servicios de atención médica primaria y preventiva, sin considerar la capacidad de los pacientes para pagar. Los cargos generados por servicios de salud son calculados de acuerdo al nivel de ingreso del paciente. La clinica ofrece un programa de pagos mensuales.
Para mas informacion pregunte ala recepcionista de la clínica.
Gracias
NOTE AUX PATIENTS
IntegraCare Clinic prend soin de tous les patients peu importe leur status de payement.  Une reduction est egalement disponible pour ceus qui sont qualifie (cela est basee sur vos moyen).
Ceus qui sont qualifies peuvent avoir plus d'information a la Reception.
Merci.