Clinical Rotations/Preceptorships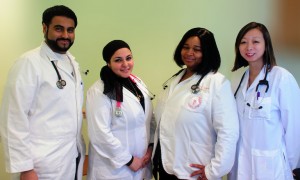 Doctors Unlimited SC offers medical Educational Series that include clinical rotation trainings in its clinic and affiliated hospital settings. These opportunities for pre-clinical practicum training as required by most healthcare field of studies are offered to qualified collegiate level students of, medicine (MD), Advanced Nurse Practitioner (ANP), Physician Assistant (PA), Registered Nurse (RN), License Practice Nurse (LPN), Medical Assistant (MA), Health Information Technology (HIT)/Billing and Coding, and Phlebotomy programs, as well as foreign-trained doctors and nurses desiring to be trained to the American medical practice system. The objective is for the students to gain clinical skills by exposing them to Internal Medicine practice and healthcare management systems that are within the frontier of cutting-edge medicine, while emphasizing quality training in thorough data documentation, critical thinking, patient care management and performing of diagnostic procedures as are appropriate to the level of study. The students learn significance of basic medical knowledge and it applications to ensure coordinated patient-centered quality care in a continuum.
Arrangement for clinical skills rotation training is customized for every individual student based on their educational program's requirements and our preceptors' availability. The sponsoring educational institution determines the prerequisites hours and/or duration of the clinical skills rotation and are responsible for paying the applicable charges/fees per a rotation.
Charges/Fees
Charges/fees are applicable to and varies per Clinical Rotation/Preceptorship programs. Please contact our office for more details at 773-933-9300 or submissions@docsunltd.com
Externships
An externship at Doctors Unlimited SC is an unpaid continuing training opportunity required mostly for vocational school level students. Our training opportunity is designed to offer and expand students' clinical and administrative exposures that will meet the requirements for their certification. Students gain exposures within our ambulatory healthcare setting. Externships can vary in duration according to the needs of the students per the specific school's requirement prior to the students' certification in their respective program.
Externship opportunity is available for Medical Assistant, Medical Administrative Assistant, Phlebotomy, and Billing and Coding/Health Information Technology (HIT) students.
Internships
An internship at Doctors Unlimited SC is an unpaid volunteer opportunity available to all students who have completed school program but needing more exposure and practice in their respective field of study.
Opportunities are available to Nurse Practitioner (NP), Physician Assistant (PA), Masters in Public Health (MPH) or Health Administration (HA), Health Information Technology (HIT), Registered Nurse (RN) and Licensed Practiced Nurse (LPN), Medical Assistants, Billing and Coding, Accounting, Marketing, and IT students.
Submit a request for a clinical rotation/preceptorship, externship or internship opportunity here.